Construction Projects of Shree Chandeshwaribasi School.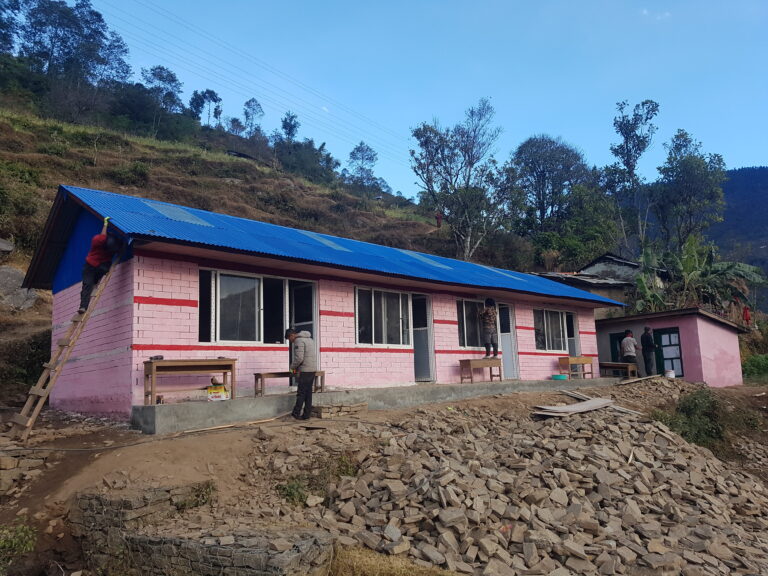 On April 25th 2015 Nepal was devastated by a huge earthquake. The villages of Goli Likhu Pike in Solu Khumbu were badly damaged. We were approached by the headmaster of the Seti Bhumi Primary School to help to rebuild and resituate the school. We were able to do this and handed over the school on 16th January 2016.
We are excited to announce our 2nd school building project.
The ShreeChandeshwariBasi School Liku Pike 2 Meski, Solu Khumbu, was also badly damaged in the 2015 earthquake. This school has 92 pupils, 3 teachers and 1 classroom assistant.
We rebuilt the school using interlocking block technology. The interlocking blocks are hollow, steel rods are then inserted through holes in them and a mixture made up of mud, dust and cement inserted making this a strong build.  We used a locally based company who also provided a trainer to oversee the project. This is a cost effective and earthquake resistant build. Dawa was involved with the build throughout from labouring and painting to the financial management of the project.
The rebuild consists of 4 classrooms, 1 boys' toilet, 1 girls' toilet and a small water project to bring water to the school.
The labourers were drawn from the local villages, several of them had also been involved in our previous school build. There was great excitement to be involved in building the school that some of their children would be attending.
We would like to thank Matthew Gary Palise from Australia for his generous donation and Ian Taylor trekking for their part in raising funds for this build. We would also like to thank all those involved in what has been a very exciting project.
Beth Brewster donated 2 mobile libraries and we were also given a donation of 100 books to add to these.
We had the official school hand over on the 11th of February 2021.